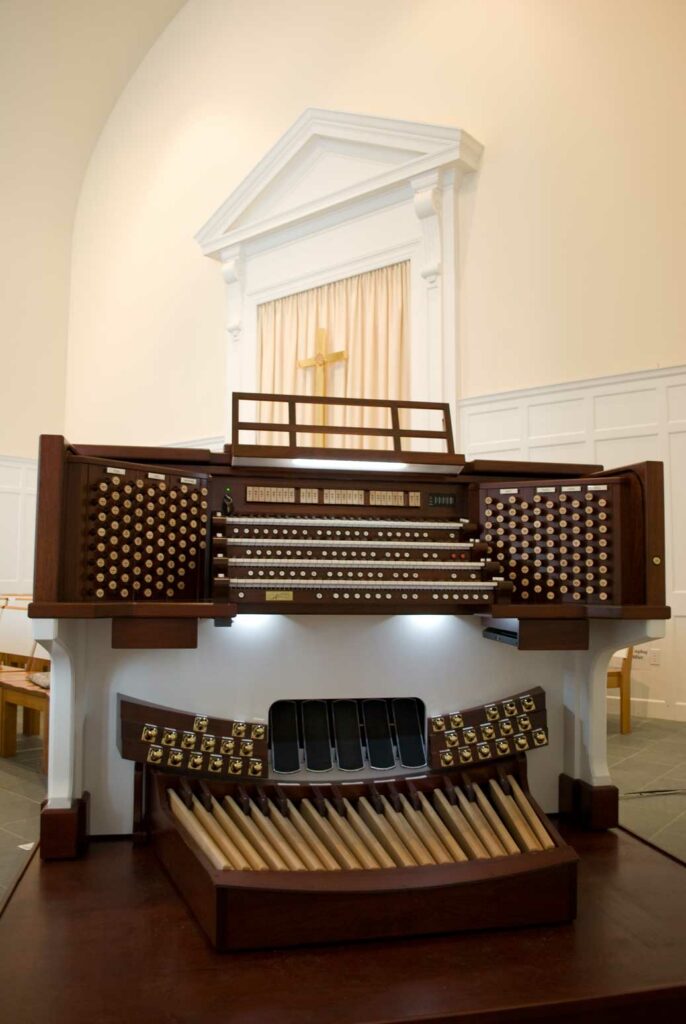 Over the course of the past 40-plus years, Allen Organ Studios Delmar NY has installed over 500 instruments in churches, homes, schools, and other venues throughout the region.
Below is a partial listing of our installations. Entries highlighted in color are also links to the Allen Organ Installation page containing more info about the installation.
Left – First Reformed Church of Scotia, Scotia, NY – photo by Christine Batson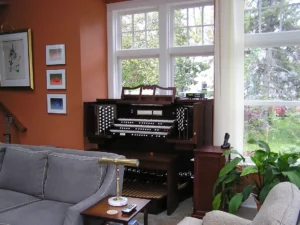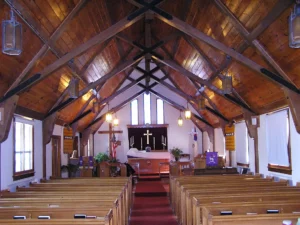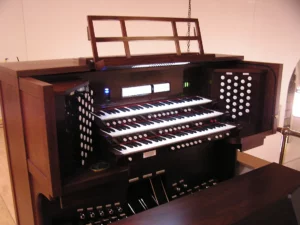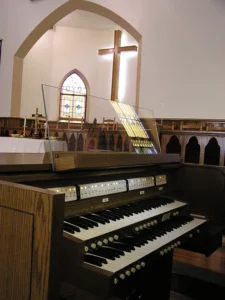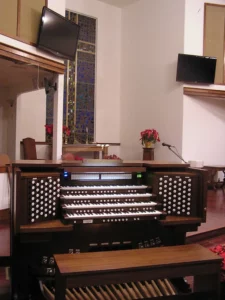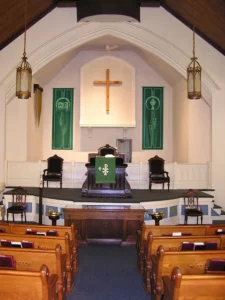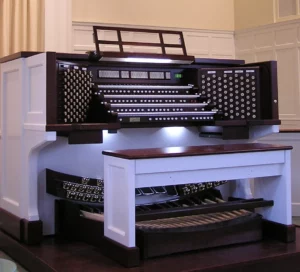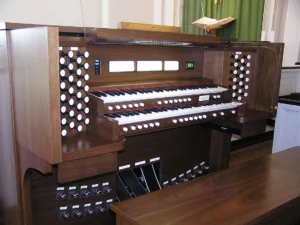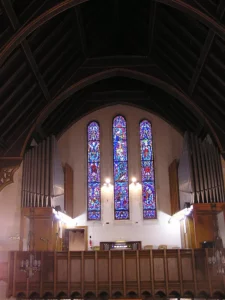 ---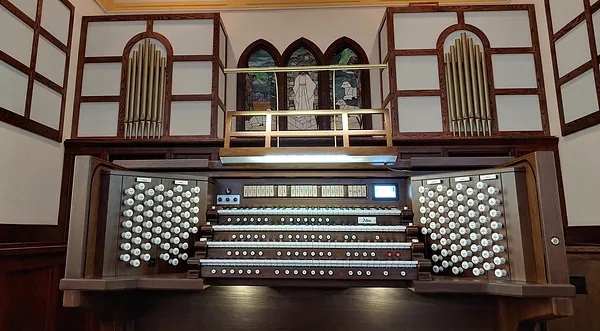 Greenbush Reformed Church – East Greenbush, NY
Greenbush Reformed Church was struggling along with their failing pipe organ. To add to the problem, even at full organ, the organ could barely keep up with congregational singing due to the fact the pipework was buried and speaking from deep chambers behind a large archway.
The growing music program also demanded a more flexible instrument to be able to perform more organ literature and to support different types of music. The church chose a large Custom Allen Organ and a Four-Manual platform with 106 stops and 2 different specifications.
---
Immaculate Conception Church – Glenville, NY
We were pleased to announce the installation of a new Custom Allen Organ for Immaculate Conception Church.
It is indeed rare for an organ builder to have such a fine music program and wonderful building to work with; but, it is also quite rewarding to have a willing partner to explore the capabilities of the instrument and to be able to design a truly one-of-a-kind, comprehensive specification.
The rich and generously scaled multiple choruses throughout the organ divisions provide the foundation for leading congregational singing. To provide the backbone for each of the organ's divisions, full Principal choruses are specified. Choral works are supported by an abundance of rich 8' stops, colorful flutes, a large variety of solo reeds, and numerous String and Celeste stops.
As for the ability to serve as a recital instrument, with 21st century digital technology and with its 6 unique independent and properly scaled and voiced tonal specifications, the organ has the tonal resources to allow the organist to authentically perform any organ literature written during the last five and a half centuries!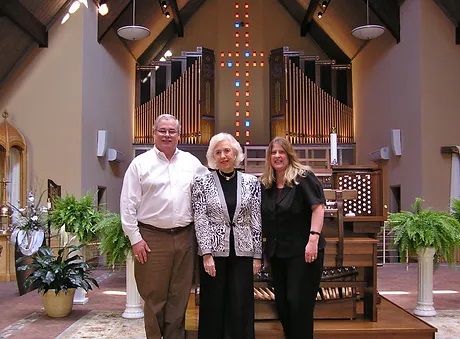 We were honored to have been commissioned to build this instrument for Immaculate Conception Church. Designing, building, and installing this instrument was a totally rewarding experience for us! The incomparable organist Diane Bish performed the dedicatory concert in May 2015.
---
Recent New York Installations
click the highlighted listing to see more

Asbury UMC, Greenville, NY – 2M/45
Brugger residence, NY 2M 28 – Diane Bish Console
Corpus Christi Church, Round Lake, NY 2M 33
DeWitt Community Church, DeWitt, NY – 4M 110 Custom Organ APEX
Greenbush Reformd Church, East Greenbush, NY 4M 104 custom organ
Hamilton College, Clinton, NY 3M 47 Custom
Holy Cross Parish, Plattsburgh, NY – 3M 50
Immaculate Conception Church, Glenville, NY 3M 89 Custom Organ
Livingston Residence, NY – 2M 40 APEX
New Hartford Presbyterian Church, New Hartford, NY – 3M 47 APEX
Our Lady of Hope Chapel, Whitehall, NY 2M 30
Our Lady of Lourdes Church (now Mary Mother of our Savior Church) Utica, NY 3M 66
Richfield Springs Bible Church, Richfield Springs, NY 2M 33
Riverview Funeral Home, Troy, NY 2M 29
Saranac UMC, Saranac, NY – 2M 47 APEX
St. Alexander's Church, Morrisonville, NY – 3M 46 Pipe/Digital Hybrid
St. Ann's Church, Fort Ann, NY 2M 36
St. Anthony's Church, Inlet, NY 3M 50 Diane Bish Console
St. Anthony's Church Schenectady, NY 3M 38
St. Augustine's Church, Peru, NY 3M 47 – Pipe/Digital hybrid
St. Luke's Church, Schenectady, NY 2M 48 Pipe/Digital Hybrid APEX
St. Madeliene-Sophie Church, Schenectady, NY – 2M 40
Third Presbyterian Church, Troy, NY, 2M 45
Viebrock Residence, NY 2M 45
Weisner residence, NY, 2M 33
Woodruff Residence, NY – 2M 33
Woodruff Residence, NY – 3M Theater Organ   

Older New York Installations
Bacon Hill Reformed Church, Schuylerville, NY – 2M/33
    Bethel Missionary Baptist Church – Wappingers Falls, NY – 3M/38
    Burnt Hills UMC, Burnt Hills, NY – 2M/45
    Blessed Kateri Parish, Lagrangeville, NY – 3M/80 Custom – Diane Bish Console​
    Caldwell Presbyterian Church, Lake George, NY – 2M/36
    Church of the Annunciation, Ilion, NY – 3M/5​8​
    Church of the Blessed Sacrament, Bolton Landing, NY – 2M/45
    Church of the Covenant UMC, Averill Park, NY – 2M/45
    Emmanuel UCC. Massena, NY – 4M/79
    Franklin Delano Roosevelt High School, Hyde Park, NY – 3M Theater​
    First Congregational Church, Bridgewater, NY – 2M
    First Reformed Church of Bethlehem, Selkirk, NY – 2M/45
    ​First Reformed Church of Scotia, Scotia, NY – 4M/142 Custom Pipe/Digital 
    Gaillard Residence, NY – 3M Theater
    Johnsonville UMC, Johnsonville, NY – 2M/33
    Massena UMC, Massena, NY – 2M/45
    Norwich University (White Chapel), Northfield, VT – 2M/33
    Northville Baptist Church, Northville, NY – 2M/36
    Northville UMC, Northville, NY – 2M/33 
    Northville, Presbyterian Church, Northville, NY – 2M/31
    Our Lady of the Assumption, Latham, NY – 2M/33 
    Our Lady of Victory, Troy, NY – 3M/55
    Presbyterian New England Congregational Church, Saratoga Springs, NY – 3M/80 Custom
    Red Hook UMC, Red Hook, NY – 2M/45
    Reformed Church of Hurley, Hurley, NY – 2M/45
    Regina Coeli Church, Hyde Park, NY – 3M/58 Diane Bish Console 
    Sacred Heart Church, Chazy, NY – 2M/33
    Shenendehowa UMC, Clifton Park, NY – 3M/56 Custom Pipe/Digital Hybrid
    Sommerville Residence, NY – 3M/58 Custom Heritage
    St. Augustine's Church, Highland, NY – 2M/33
    St. Catherine Le Boure, Lake Katrine, NY – 2M 29
    St. Gabriel's Church, Rotterdam, NY – 2M/36
    St. George's Episcopal, Clifton Park, NY – 3M/56
    St. John's Episcopal Church, Essex, NY – 3M/38 – NEW!
    St. Joseph's Church, Ft. Edward, NY – 2M/51
    St. Joseph's Church, Kingston, NY – 3M/38
    ​St. Joseph's Church, Millbrook, NY – 2M/Quantum
    St. Mark's Lutheran, Hudson, NY – 2M/29
    St. Mary's Church, Clinton Heights, NY – 2M/Chapel​
    St. Mary's Church, Fishkill, NY – 3M/56
    St. Mary's Church, Glens Falls, NY – 2M/51
    St. Mary's Church, Saugerties, NY – 3M/50 Diane Bish Console
    St. Mary's Church, Wappingers Falls, NY – 3M/56
    St. Mary's of Mt. Carmel Church, Utica, NY – 3M 58
    St. Thomas The Apostle Church, Delmar, NY – 2M/40
    Stone Church (Episcopal Chapel), Cragsmore, NY – 2M/29
    Tabernacle Baptist Church, Poughkeepsie, NY – 2M/34
    Tetreault Residence, NY – 3M/66 Diane Bish Console
    United Methodist Church, West Schuyler, NY – 2M Protege